BENGHAZI POLITICAL COVERUP NOW A 'FACT'
ISLAMIC MILITANT ATTACK/MURDERS/LIES/AND COVER UP
-Obama/Hillary/Trampled on the American Spirit for political gain-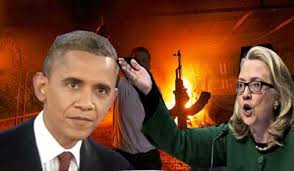 *'Sweeps' NOTE:
...
Except for the persistence on the part of a 'VERY FEW'...for the truth (Judicial Watch/Fox News/SOME others), this POLITICAL CULTURE Lying and the 'Criminal Mainstream Media' in bed with the LIBERAL/PROGRESSIVE anti-Constitution Radicals....would never have surfaced
...for the sake of History/Citizenship...and now made available to cast without doubt the 'DICTATORSHIP' taking place in America.
The following is the 'MAIN POINT',
and why OBAMA is branded in this same sense whenever he speaks on TV or otherwise...as 'The Liar And Chief'
;
'Now we know the Obama White House's chief concern about the Benghazi attack was making sure that President Obama looked good'... said Judicial Watch President Tom Fitton. 'And these documents undermine the Obama administration's narrative that it thought the Benghazi attack had something to do with protests or an Internet video. Given the explosive material in these documents, it is no surprise that we had to go to federal court to pry them loose from the Obama State Department'.
Bill O'Reilly gives his report/Fox News Video
http://video.foxnews...v=3525744428001
Bill's next day report/'Talking Points' address...with Gen. Robert Lovell
-No one asked for ANY Military Assistance to save the Ambassador/others-
http://video.foxnews...v=3528637652001
**
THE 'Smoking Gun' E-mail AND MANY MORE
, obtained from a Freedom Of Information-FOI request cum SUIT which makes it clear that
the White House falsified the Benghazi ATTACK to the American People
;
(Washington, DC) – Judicial Watch announced today that on April 18, 2014, it obtained 41 new Benghazi-related
State Department documents
. They include
a newly declassified email
showing then-White House Deputy Strategic Communications Adviser Ben Rhodes and other Obama administration public relations officials attempting to orchestrate a campaign to "reinforce" President Obama and to portray the Benghazi consulate terrorist attack as being "rooted in an Internet video, and not a failure of policy." Other documents show that State Department officials initially described the incident as an "attack" and a possible kidnap attempt.
The documents were released Friday as result of a June 21, 2013, Freedom of Information Act (FOIA) lawsuit filed against the Department of State (
Judicial Watch v. U.S. Department of State
(No. 1:13-cv-00951)) to gain access to documents about the controversial talking points used by then-UN Ambassador Susan Rice for a series of appearances on television Sunday news programs on September 16, 2012. Judicial Watch had been seeking these documents since October 18, 2012.
The
Rhodes email
was sent on sent on Friday, September 14, 2012, at 8:09 p.m. with the subject line: "RE: PREP CALL with Susan, Saturday at 4:00 pm ET." The documents show that the "prep" was for Amb. Rice's Sunday news show appearances to discuss the Benghazi attack.
***

The document pointedly sets out the 'stance' which Susan Rice...the U.S.A.'s UN Ambassador...was to take in talking to 5 TV Station interviews

...AND lists as a "Goal": "

To underscore that these protests are rooted in and Internet video, and not a broader failure or policy

."
SO DAMMING:
The Rhodes communications strategy email also instructs recipients to portray Obama as "steady and statesmanlike" throughout the crisis. Another of the "Goals" of the PR offensive, Rhodes says, is "[T]o reinforce the President and Administration's strength and steadiness in dealing with difficult challenges." He later includes as a PR "Top-line" talking point:
I think that people have come to trust that President Obama provides leadership that is steady and statesmanlike. There are always going to be challenges that emerge around the world, and time and again, he has shown that we can meet them.
In the days following the Knopf
email
, Rice appeared on ABC, CBS, NBC, Fox News and CNN still claiming the assaults occurred "spontaneously" in response to the "hateful video." On Sunday, September 16
Rice told CBS's "Face the Nation:
"
But based on the best information we have to date, what our assessment is as of the present is in fact what began spontaneously in Benghazi as a reaction to what had transpired some hours earlier in Cairo where, of course, as you know, there was a violent protest outside of our embassy–sparked by this hateful video.
The Judicial Watch documents
confirm
that CIA talking points, that were prepared for Congress and may have been used by Rice on "Face the Nation" and four additional Sunday talk shows on September 16, had been heavily edited by then-CIA deputy director Mike Morell. According to one
email
:
The first draft apparently seemed unsuitable….because they seemed to encourage the reader to infer incorrectly that the CIA had warned about a specific attack on our embassy. On the SVTS, Morell noted that these points were not good and he had taken a heavy hand to editing them. He noted that he would be happy to work with [then deputy chief of staff to Hillary Clinton] Jake Sullivan and Rhodes to develop appropriate talking points.
AND NOW WE ALSO LEARN....TIME FOR TRIALS AND IMPEACHMENT
2 Classified Documents Leaked By Egyptian Security Implicate Obama, Clintons In Aiding And Abetting Terrorists:
via Red Flag News
Obtained by Arabic-speaking former Palestinian Liberation Organization-member Walid Shoebat and posted Thursday on his website,
the two leaked documents
provide evidence Egyptian security forces have monitored the movements and activities of Obama's half-brother, Malik Obama, and his Islamic Dawa Organization, or IDO.
The security forces also have kept an eye on the dealings with the Muslim Brotherhood of Essam El-Haddad, the father of Gehad El-Haddad, a senior adviser to the Muslim Brotherhood in the United States and a former employee of the William J. Clinton Foundation.
Shoebat referenced the publication of the leaked documents in Arabic by the Al-Masry Network in Egypt as evidence Malik Obama's organization is the main sponsor of the effort to Islamize the Nuba area, Aswan and Luxor.
So...
this is 'GREAT' Bad news for the Clinton campaign. Obama has aided terrorists all over the Middle- East
. People thought Tea Partiers were crazy when they said Obama would support terrorists but oddly enough, that's just what he has done. Libya, Syria, Egypt, Iran...Probably more than we know I'm sure.